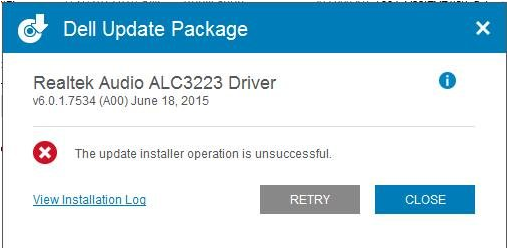 Many Dell laptop users have complained about encountering an error "The update installer operation is unsuccessful" when they try to update drivers.
Without right drivers, many laptop/desktop functions may not work correctly. If you are encountering similar error while updating Dell drivers, you are more likely to benefit from the solutions given in this post.
Solution One – Run the installer from desktop
This solution has worked for many and might also work for you. Copy the installer file to desktop and double-click on it to start the installation. If you still get "The update installer operation is unsuccessful" error, move to next solution.
Solution Two- Download new installer
There is a possibility the installer is corrupt or incompatible. In such scenario, you need to download a new driver installer from Dell website. Do not download Dell drivers from other sites. You can easily find right driver files for your Dell laptop from the manufacturer site. Here are the steps to follow.
Visit Drivers and Download section on Dell website
If you know the service tag, enter information in the box.(1)
If you are accessing Dell website from the laptop/desktop for which you want to update drivers, click Detect PC(2)
else, click view products(3) and then click laptops or desktops(whatever is right for you)
Click the right laptop series and then right model. (We have chosen Inspiron and then Inspiron 15 3568 model).

(The steps given below are for reference purpose only, you need to match them with your Dell laptop model and make choices accordingly)
In the Drivers and Download page, you can see the list of drivers available for your Dell laptop, click View more to see all driver updates available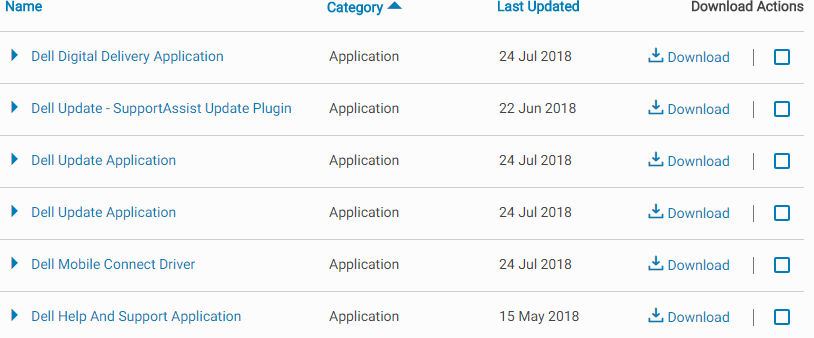 click Download now link corresponding to the driver you want to download

The driver download is initiated. When the save dialog box opens, navigate to the folder where you want to save the driver and click
Wait for download to complete.
Double-click on the downloaded driver file to start the installation.
If you are still getting the "The update installer operation is unsuccessful" error, move to the next solution.
Solution Three – Update Drivers with DriverDownloader
Outdated drivers can cause all sorts of issues, including Dell Driver issue. To resolve the problem, update all your outdated device drivers.  Updating device drivers might also help you improve your Windows performance.
You can update your device drivers manually but the most appropriate way to update drivers is by using a fast driver update tool like DownloadDriver. Such tools make updating drivers ridiculously easy.
Simply click the button below to download the tool, and then follow onscreen instructions to install it. Run the software to free driver report and then finally register it to enjoy automatic driver updates.
Yes, that's it. With DownloadDriver getting automatic driver updates is so easy. You also get 30-day money-back guarantee and customer support when you register the software.