Have you ever wanted to connect your PS4 controller to your Windows computer?
Maybe you think since the controller is specifically designed for PlayStation 4, it won't work with your PC.
Truth to be told: It will. And you can count on us to show how to connect it with a Windows computer.
What's more, the whole process is quite easy. Just follow these three simple steps and you'll be able to enjoy your favorite Windows games with PS4.
Step #1 – Connect PS4 Controller through Bluetooth or USB
The first thing you need to do if you want to use PS4 Controller with Windows is to connect it to the PC physically. You can do this by either of the following ways:
First Method – Connect PS4 Controller through USB
The easiest way to establish a physical connection between your computer and PS4 is by using a micro-USB cable. The best part of using this method is that once you connect PS4 to the PC, you don't need to do any further configuration.
You can use the regular micro-USB cable for this purpose. Next, follow these steps:
Plug in the smaller end of the USB cable into the port on your PS4. The port is present on the front side (as shown below)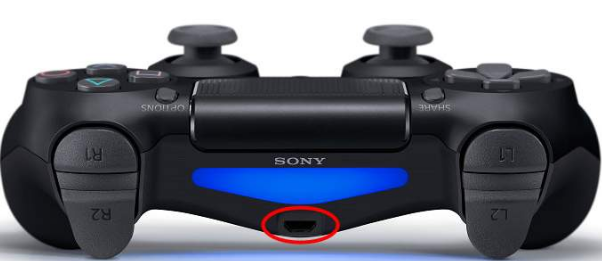 Next, plug in the bigger end of the cable in a USB port on your Windows computer
Go to the next step (Those using Windows 10 can directly go Step 3)
Second Method – Establish a connection via Bluetooth
If you don't like or want to use a micro-USB cable, connect the PS4 controller to your PC using Bluetooth.
In case your Windows computer has Bluetooth capabilities, you can directly pair it with the PS4 controller. In case it doesn't have the Bluetooth feature, you will have to use an external Bluetooth adapter.
To ensure the Bluetooth adapter driver runs without any problem, you should have the latest Bluetooth driver on your Windows computer. If you don't know how to manually update device drivers, use DriverDownloader.
You can download, install, and even run DriverDownloader for free, but to get automatic updates you will need to register the software, which comes with a 30-day money back guarantee.
Download DriverDownloader by clicking the link below.
Once your Bluetooth adapter is ready, connect the two devices together. Here are the steps to follow:
Press and hold the PS and Share buttons together on your PS4 till the light bar flashes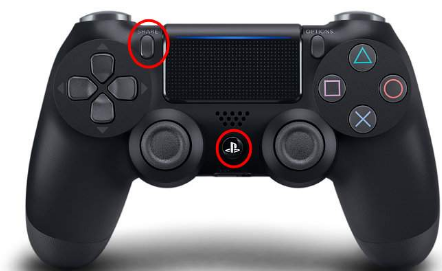 Pair the controller with Windows. Steps to this for Windows 10 are different than for Window 7
For Windows 10
Click Start and then click Settings
Click Devices
Click Bluetooth & Other devices
Choose Wireless Controller and then click on Pair
Now the wireless connection between the two devices is complete and you can directly go to Step 3
For Windows 7
Click Start and then click on Devices and Printers
Click on Add a device
Choose your PS4 controller and then add it as a device on Windows PC (In case you are asked to enter a pair code, write "0000"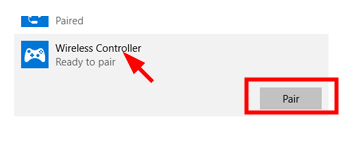 Now the wireless connection between the two devices is complete. Go to the next step now.
Step 2 – Install Xbox 360 Controller driver (for users with Windows 7 or a lower version)
This step is only for those using Windows 7 or a lower version. If you have Windows 10, directly go to Step 3.
You can't use the PS4 controller with Windows 7 or lower versions by just physically connecting it to your PC. Windows Games can't directly recognize PS4; they need a bit of help in this department. What you need is a third-party application software that emulates Xbox 360 controller.
However, for such applications to work on Windows 7 or a lower version, you will need Xbox 360 controller software. You can download the software from Microsoft website.
Here are the steps to follow:
Click the Download button and save the file in a suitable location like your desktop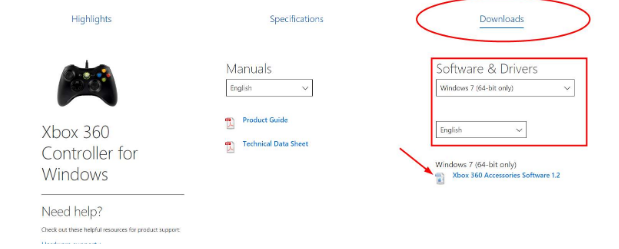 Open the file and install the software
Reboot Windows when the installation is complete
Step 3 – Use a third-party Xbox controller emulator
You can use either Steam or DS4Windows to allow you to use PS4 controller with Windows.
In case you are already using Steam, that's great news. Your Steam client will help your Windows PC recognize the controller. Steam already provides native support for DualShock 4.
You can configure PS4 controller on Steam using these steps:
Disconnect the PS4 controller. (In case of wireless controller, unpair the controller by going to Bluetooth settings. In case of wired controller, simply unplug the micro-USB cable from your Windows PC)
Open the Stream Client. Now log in into it.
Click the gamepad icon (as shown below)


Click Controller Settings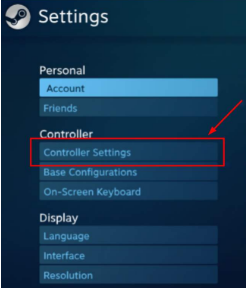 Select PS4 Configuration Support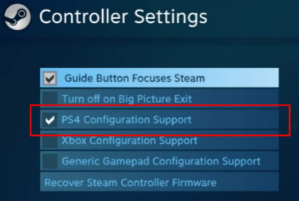 Connect the controller to the Windows PC. Steam will automatically detect the PS4 controller
Launch any game which supports controller. Press the PS button on PS4 and then choose Controller Configuration
Modify button settings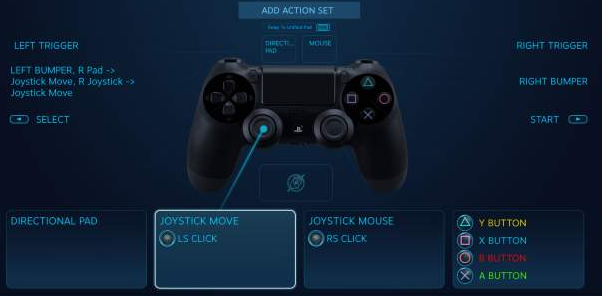 Exit Controller Configuration. Now you can enjoy your favorite game with controller on Steam
In case you don't have Steam or the game you like playing doesn't work with Steam well, you can use alternatives like DS4 windows. It can easily map the PS4 controller on to the Xbox controller driver.
Here's what you need to do:
Go to DS4Windows site. Download the program and save it in a suitable location like your desktop and then install the program.
Extract each and every file in the compressed folder
Double-click DS4Windows.exe
Select the location where you would like to save profiles and settings. You have two options — Program Folder and Appdata. Locating Program Folder is easier but you need to be logged in as an administrator to save the files. Appdata, on the other hand, allows access to restricted users but it is at times hidden by Windows. So choose accordingly.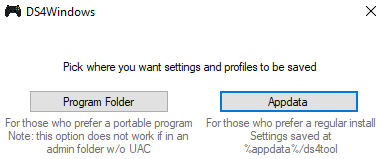 In the Welcome to DS4Windows screen, click Step 1: Install the DS4 Driver. This will ensure downloading of a special driver for this particular program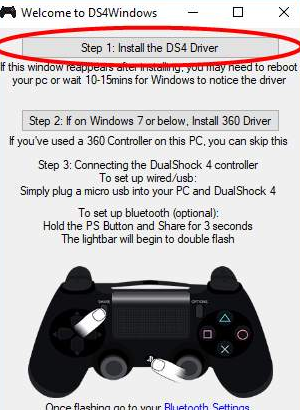 Next you need to click the Install button to start installation of the driver
Now if you are able to see Install Complete button, this means driver installation is complete. To close this window, click the Finish button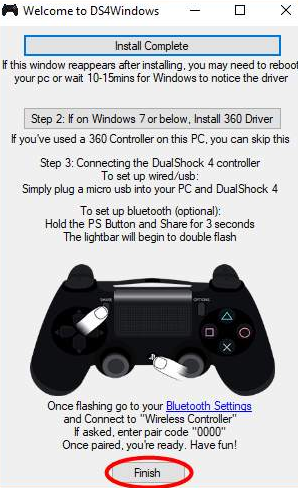 Click Controllers tab in the DS4Windows Window. You will be able to see the PS4 controller here in the list of all connected drivers.

If you don't see it, you need to reboot Windows. Upon reboot, Windows will automatically discover the driver and the controller. Next, open the DS4 Window and you will be able to see the controller in the list of all connected drivers under the Controllers tab
That's just about it. You can now use the PS4 controller on your Windows computer to enjoy games.