Is Bluetooth not turning on? If yes, this post is just for you.
You need Bluetooth "on" if you want to connect any Bluetooth device (such as mouse, headphones, etc.) or transfer files from your smartphone to your laptop via Bluetooth.
In this post, you'll learn:
How to easily turn on Bluetooth in Windows 10?
What steps you need to perform in case Bluetooth doesn't turn on the normal way in Windows 10?
Turn Bluetooth on in Windows 10
Here're the steps to follow.
On the keyboard, simultaneously press Windows log key + I key
This will open the Settings window. Now click the Devices option
Click the slider under Bluetooth to On

However, sometimes it's possible you may not see the Bluetooth switch. Instead, you may see this screen. Don't worry if that's what you see. Shared ahead are the steps you need to perform to get the Bluetooth switch back.

What if you aren't able to turn Bluetooth on in Windows 10?
There're three ways to solve the issue. You don't have to try all of them. Start with the first, and if that doesn't work, try the second and so on.
However, if you're connecting a Bluetooth device with your computer for the very first time, first check whether your PC has Bluetooth or not. If you're sure it has Bluetooth, directly go to the solutions listed ahead.
How to check if your computer has Bluetooth?
Here're the steps to follow:
On your keyboard, click the Windows logo key + R
This will launch the run dialog box. Type devmgmt.msc here and then press Enter
In the Device Manager window, check if you see any Bluetooth section or any Bluetooth adapter under Network adapters. You should also check if any Bluetooth adapter is located below the Other Devices section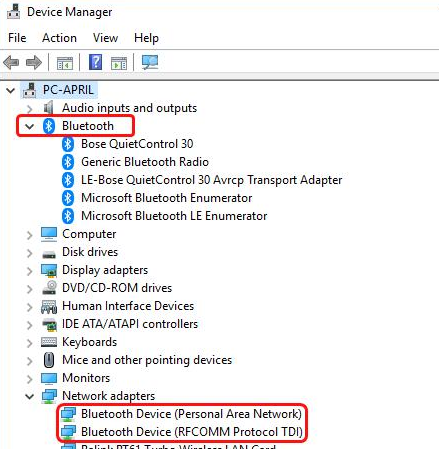 In case you see one or more Bluetooth adapters in your Device Manager window, you can safely conclude your computer has Bluetooth capabilities
In case there's no Bluetooth adapter in the Device Manager window, it means your Windows computer doesn't support Bluetooth. However, a Bluetooth receiver can solve the issue easily, so there's no cause for worry.  
Solution 1 – Update the Bluetooth driver
Without the supporting software and hardware, Bluetooth won't work. Once you're certain that your Windows PC supports Bluetooth, but for some reason it isn't working, first update the Bluetooth driver.
You can update the Bluetooth driver manually or automatically. The second method is easier, simpler, and quicker to boot. However, we've listed both the solutions, so you can pick whichever you find better.
Update Bluetooth Driver Manually
If you want to manually update your Bluetooth driver, go to your computer's manufacturer's site and locate the latest Bluetooth driver. Once you've located the driver, download it. Make sure you download the driver meant for your version of Windows. For instance, if you use 32-bit Windows, download 32-bit Bluetooth driver only.
After you've downloaded and saved the driver file, double-click it to install the driver. Follow onscreen instructions (if any). You may have to reboot Windows once the installation is complete.
Update Bluetooth Driver Automatically
You can update the Bluetooth driver automatically by using an advanced driver update software such as DriverDownloader.
This software is fast, super-accurate, and easy-to-use. You don't need any technical knowledge to use it, and you can update drivers at a click of the button.
Here's the link to download DownloadDriver. (Don't forget to register yourself after installing the software, because only registered users get automatic driver updates).
Solution 2 – Re-enable Bluetooth driver software
Here're the steps to follow.
On your keyboard, click the Windows logo key + R
This will launch the run dialog box. Type devmgmt.msc here and then press Enter
In the Device Manager window, right-click the Bluetooth device under Bluetooth section. Then click Disable device
Now right-click the Bluetooth device again, and this time select Enable device
On the keyboard, simultaneously press the Windows logo key and I key
This will open Settings window and check if you can see the Bluetooth switch. If not, move to the next solution
Solution 3 – Ensure Bluetooth support service is running
Here're the steps to follow:
On your keyboard, click the Windows logo key + R
This will launch the run dialog box. Type services.msc and click the OK button
Right-click Bluetooth Support Service and click Start. In case you see that the Start option is greyed out, press Restart

Right-click Bluetooth Support Service once again, click Properties
In case the startup type is set as Manual then change it to Automatic
Press the Apply button
Press the OK button to save the changes
On your keyboard, simultaneously click Windows logo key + I. Now check if Bluetooth is marked as "on" in the Settings window