How to download & Install Lenovo Drivers
Problems with Lenovo Drivers can affect the performance of your Lenovo device such as your laptop. In the worst cases, Lenovo Driver issues can prevent you from using certain programs or applications.
Before we discuss the steps you need to perform to troubleshoot Lenovo driver problems, lets first explain why these problems happen in the first place. Lenovo Driver issues usually occur in one or more of the following cases:
You have reformatted your Lenovo laptop or netbook but have not reinstalled all the Drivers that were there before
You have deleted a Driver file by mistake
One or more installed Drivers are outdated or have become corrupt
This article will show you how to troubleshoot many Lenovo Driver errors in 3 simple steps.
Open the Device Manager window to identify the problem
If the error is driver-related, it will show in the Device Manager window. To open the Device Manager, do the following:
Click Start
Click Run
Type devmgmt.msc in the Run dialog box, and press Enter
Double-click the hardware device type with which you are experiencing a problem to see all its devices. If there is a triangle, an exclamation mark, or a question mark next to the device, it means the issue is indeed driver-related, which can be easily resolved by downloading the latest Lenovo drivers and installing them via the steps below
Download the latest Lenovo drivers
Open your browser and go to https://support.lenovo.com/us/en
Click the Drivers & Software under Choose The Support You Need
In the next window, select your product type
Next, select the correct product series, the actual product, the correct machine type, the correct model, and finally the operating system
On the next screen, select the Driver you need to download, and then click the Download now icon (Note: If you need to download multiple drivers, instead of downloading each one separately, add all the Drivers to your download list by clicking the Add to Download list icon
Once you have all the Drivers you need, click My Download list, select all the Drivers you want to download in the next screen, and click the Download Selected button
Installing the latest Lenovo drivers
To install all the downloaded drivers, simply double-click them one-by-one and follow the onscreen instructions. After you have installed all the Drivers, we recommend you restart your machine.
A driver update tool can download and install all missing and outdated device drivers quickly and easily. This avoids the need to download Drivers manually, which can be quite a challenge if you need to download multiple Drivers or if the Driver you need is not listed on its manufacturer's website.
DriverDownloader is a trusted and AppEsteem certified Driver Update Tool which will help solve your Lenovo Driver problems in a matter of minutes.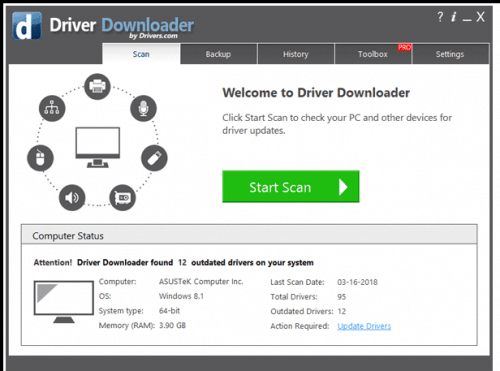 Get Automatic Driver Updates
Using a Driver Update Tool can be a simpler and more effective way of fixing driver-related errors. There are many advantages of using a Driver Update Tool, such as:
Speed – searching for Drivers yourself can be time-consuming and frustrating
Reliability – most Driver Update Tools have an extensive database of Device Drivers
Efficiency – a good driver update tool will update your required Drivers (by exact-matching to your PC's specific requirements) and will keep these Drivers up-to-date as new versions are released
Download Drivers for many Lenovo devices on Windows 8, Windows 7, XP and Vista, common Lenovo Drivers downloads are:
Download Lenovo Drivers
lenovo g570 drivers
lenovo t430 drivers
lenovo t420 drivers
lenovo s10 drivers
lenovo x61 drivers
lenovo ati drivers