Once you have downloaded the Driver Update Tool, you will be guided through the process of updating your drivers.
Driver update tools save time and a lot of effort in updating your software drivers such as webcam drivers, usb drivers, printer drivers and many more. The Driver update tool will also keep these drivers up-to-date so you don't have to worry about updating them yourself.

Click to register and get automatic Driver updates!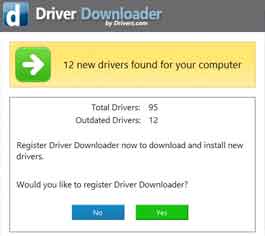 Advantages of Driver Downloader
Full access to over 600,000 Software Drivers
latest Drivers for Windows 10, Windows 8, Windows 7, Vista and XP
Our Automatic Drivers Scan will efficiently find and update Drivers
Easily create Driver Backups
Safe, fast and effective!