New Florida drivers license
By: Drivers.com Staff
Date: 2018-09-11
Florida's new driver license is available at every service center in Florida. You can also obtain it online if this is a better option for you. The new license is being regarded as significantly more secure than the previous license and it also includes many new features. Read on for further information about the Florida's new driver license.
I Have The Old Driver License – Do I Need to Apply For a New One Also?

If your old license is valid, you don't need to apply for the new driver license. Your previous license will remain valid until its expiration date. Existing driver license holders need to apply for the new Florida driver license in only two conditions:
When their previous driver license has reached the expiry date
When a required change is needed, such as a change of name
How to Get the New Florida Driver License?
The new license is available at each and every service center in Florida. You can visit the nearest service center and get one. Alternatively, you can apply for it online through
GoRenew.com
.
What does the New Florida Driver License Look like?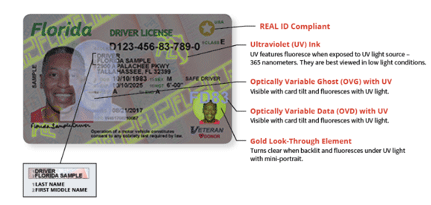 The new license is truly Florida! On the front, there's a pastel furnishing of the state seal, as well as a big orange-colored "FL" written over a white base. The back of the card features an image of Florida State on oceanic waves with the year displayed as 1845, the same year when Florida was declared the Union's 27th state. You'll find that in the new driver license, the photograph images appear in 4 locations. The background in all the photograph images is transparent.
Will the new driver license cost more?
No. The fee remains the same.
Does the new Florida Driver License Meet Federal Requirements?
Yes, it does. The new license is in conformity with federal REAL ID security standards. You can use the new Florida Driver license for official identification.
Fraud Protection
As per the authorities, the new driver license features two times the protection measures than its predecessor, including ultraviolet ink, optically variable features, and redundant data.
Designated Header Colors
There's a different header color for different types of driver license. For instance, commercial driver license will have CDL written in blue at the top. Similarly, Learner's License will be written in orange in case of a learner's license. If the holder of the credential is under 21, the front of the card will feature a red-colored box where the date on which the bearer will turn 21 will be written.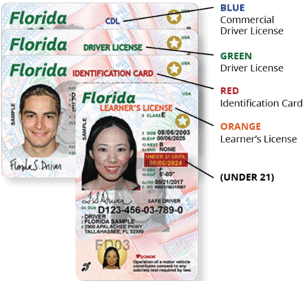 New Designations
Another new feature in the new Florida driver license is incorporation of new designations. It will feature designations for lifetime boater, sportsman's, hunting, saltwater, and freshwater license, along with designations for organ donor, veteran, developmentally disabled, and deaf or hard of hearing.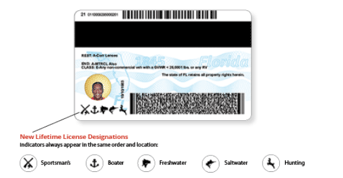 Markers for Sexual Predators or Sexual Offenders
In the new driver license of Florida, there will be designated markers for people who are sexual predators or sexual offenders. People who've been designated as sexual predators would have "Sexual Predator" written in the right-hand side bottom of their license.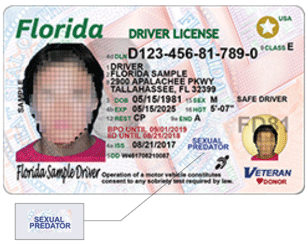 On the other hand, "943.0435 F.S." will be listed in case of the people identified as sexual offenders.
Other Important Updates
In the new license, you'll find that every data field, such as expiration date, name, height, sex etc., has a small number mentioned next to it. The driver license standard by American Association of Motor Vehicle Administration (or AAMVA for short) requires these numbers to be included. The new Florida driver license has adopted this standard, so have many other states. The new driver license doesn't spell out motor endorsements on its front. Two endorsements in this regard have been included and they are motorcycle-only and motorcycle-also. They are designated by an "O" or "A", respectively on the front.
Login or sign up to receive email notification
when a comment is added to this thread.
NOTE - You can cancel at any time, and we have a strict privacy policy which forbids us from sharing your email address or other information with any third party.
---
---