Hawaii--Crater Rim Drive--Volcanoes National Park
Date: 2004-11-15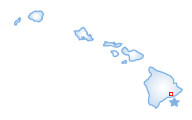 At Hawaii Volcanoes National Park, you can witness firsthand the real force that is reshaping the Big Island of Hawaii even today. Kilauea is one of the world's most active volcanoes, with steam rising from its massive caldera, and a landscape pocked with craters, cinder cones, and cooled lava flows. This 11-mile, two-hour drive circles the rim and includes a rain forest and a desert.
The trek begins with a quick orientation at the Kilauea Visitor Center before crossing the road to visit the Volcano House, a historic hotel balanced right on the rim. The 0.3-mile Earthquake Trail, right off the hotel's parking lot, offers a gorgeous view of the Kilauea Caldera, which measures two miles across and 500 feet deep, as well as famed Mauna Loa, the world's most massive mountain at 32,000 feet from ocean floor to peak.
Driving clockwise around the rim, the road enters a rain forest of lush vegetation, stopping off at the Kilauea Iki ("little") crater, which, some 30 years ago, was a lake of boiling lava with 1,900-foot "fountains" that have since crusted over. Next up is the Thurston Lava Tube, a 0.3-mile loop trail, which takes you through a duct in which molten rock once flowed. Up ahead, visit the Puu Puai Overlook and a short foot trail leading along Devastation Trail, a rain forest that is slowly returning after being virtually wiped out by Kilauea Iki's 1959 eruption. Next, the steaming Halemaumau Crater is said to be the home of Pele, Hawaii's volcano goddess.
Leaving the Crater, you cross old lava flows to the Kau Desert, created by natural acid rain from the volcanoes, where you also can view the Southwest Rift Zone, fractures in the weakened side of the volcano. The Jaggar Museum offers a look at different types of lava and volcanic glass known as "Pele's Tears." Pass the vents of Steaming Bluff to view the colorful rocks of the Sulfur Banks. The trip concludes back at the visitor center.
Starting Point:
Kilauea, HI

Distance of Drive:
11 miles

Must Eat:
Cafe 100
969 Kilauea Avenue, Hilo, HI 96720
Phone:808-935-8683
Call ahead to confirm hours of operation.

Best Time of Year for Drive:
Year round

Points of Interest on Drive:
Volcano House
Halemaumau Crater
Thurston Lava Tube
Comments to this article have been disabled.
---
---