After 50 years, aluminum cars are back
By: Les Dobson
Date: Sunday, 02. September 2007
---
Nearly 50 years and what seems like several lifetimes ago, I served in Britain's Royal Air Force with one of the landed gentry, an ordinary airman like myself, who had the good fortune to possess a beautiful hand- tooled, aluminum-bodied Lagonda car.
Such was the Lagonda's aura of prestige, we 18-year-old recruits took great delight in driving around the base doubled up with laughter as much-feared sergeants and warrant officers snapped up salutes in the belief our car contained an officer of at least the rank of air vice- marshal.
Since that time, I've thought with envy on numerous occasions about that aluminum Lagonda, particularly when trying to stem the inevitable corrosion process on my latest rust-bucket on wheels.
Now several car manufacturers are beginning to produce models (admittedly at the high end) with all-aluminum bodies and several more have plans for aluminum-intensive vehicles (AIVs). In fact, the auto manufacturer is the aluminum industry's fastest growing customer and with good reason. As the trend continues toward the purchase of ever-bigger SUVs, trucks and vans, manufacturers are hard-pressed to keep down the weight of these vehicles.
Among the commercially available AIVs today are the Audi A8, the Honda NSX, the Plymouth Prowler and GM's EVI. The Honda NSX and the Plymouth Prowler are high- performance, specialty sports cars geared to a niche market, and the EVI is a leading electric car entrant.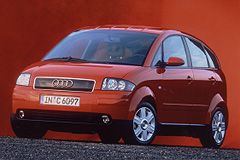 But at the 1999 Frankfurt Motor Show, Audi unveiled a new five- door hatchback it claims is the world's first aluminum car to be signed off for volume production. The A2 weighs approximately 43% less than it would if built from steel using conventional processes, having a considerable effect on fuel consumption and handling agility.
The primary reason for the increased use of aluminum in the automobile is cost-effective mass reduction. In combination with advances in power train efficiency, aluminum can achieve significant gains in fuel efficiency and reduced atmospheric. A 10% reduction in weight, for example, can achieve at least an 8% increase in fuel efficiency.
Aluminum permits manufacturers to reduce vehicle weight while maintaining size and strength, offering the possibility of radical redesign.
Donald W. Macmillan, Alcan's president of Global Automotive Products, told a 1999 financial analysts' conference that, from an historical perspective, aluminum adoption can be characterized by three distinct eras.
The first, or "Oil Crisis" era, saw rapidly increasing fuel prices and manufacturers scrambling for a rapid means to improve fuel efficiencies, Macmillan said. During this period, only about 3% of the mass reduction came from increased use of aluminum; most came from vehicle redesign and downsizing.
The next era, "Incremental Weight Management", came when manufacturers faced pressure from consumers and regulators to add options (e.g., air bags, ABS, air conditioning, power windows and locks). These options added weight to the vehicle. To meet fuel efficiency targets and to accommodate consumer preferences, material substitution, including aluminum (primarily for cast iron parts), now played a significant role in containing weight increases.
Macmillan added, "Today, there is growing environmental awareness and pressure among consumers and regulators, thereby making proactive environmental responsibility a priority. Auto makers are now facing a renewed need for significant mass reduction in their cars and their highly popular light truck and sports/utility vehicles.".
Looking to the future, Macmillan said that the Ford P2000 prototype, similar in size and appearance to the popular Taurus model, may help pave the way for the next generation of AIVs.
Alcan helped Ford to produce the P2000, the lightest mid-sized vehicle in the world at just 2,000 lbs. This vehicle represents a radical change in material composition with 735 lb. of aluminum, with stamped sheet being the major product form.
Equipped with a prototype engine, the P2000 can deliver 63 mpg with equal or superior performance to a steel-bodied sedan, including safety. Several such prototypes have been assembled and are being extensively tested.
Macmillan noted, "Based on what we have learned from prototype programs such as the P2000, there are significant advantages over and above pure mass reduction that aluminum can bring to the vehicle of the future. Clearly, consumers buy cars first and foremost for value: a combination of performance and cost."
The possibility of improved performance, he said, include:
Improved acceleration: A weight reduction from 3,300 to 2,000 lb. would reduce the 0-to-60 mph acceleration time for a mid- sized sedan perhaps more than any of us need or want. Alternatively, the result can be smaller engines with equal or superior performance.
Better handling: Reduced vehicle weight leads to improved stability and turning response. Weight reductions decrease the slip angle between the tires and the road for any given turning situation.
Improved noise, vibration and harshness: A car's torsional rigidity influences both the response to steering input and the way road-generated noise and vibrations are amplified by the vehicle and transmitted to the occupants.
These performance advantages can be achieved without any compromise in safety. A light car, for instance, does not have to be a small car. Therefore, by using aluminum, it is possible to provide large front and rear crash zones for protection of the passenger compartment without incurring corresponding weight penalties.
In fact, the 1998 Audi A8 achieved the top NHTSA safety rating for both the driver and front passenger. It is the first and the only member of the luxury class to earn this dual five-star rating. And the Ford AIV prototype impact testing at 35 mph matched or exceeded the steel equivalent.
The overall environmental impact of the increased use of aluminum is also positive. By designing with lightweight aluminum, car makers have the ability to reduce fuel consumption and emissions. A one-ton increase in the use of aluminum in automotive applications in place of steel would reduce 20 tons of CO2 emissions over the life of an average vehicle.
Aluminum scrap values are roughly 10 times that of steel on a per ton basis. In the same way that the highly successful recycling program has eliminated the litter problem for aluminum cans, in a future of AIVs, there will be no more rusting hulks in fields and scrap yards-the aluminum is simply too valuable to abandon.
Aluminum's use in automobiles presents a winning situation for the manufacturer, for the aluminum industry, for the consumer and for the environment.
Macmillan says that the biggest hurdle for aluminum is probably that of cost or affordability, which is why all-aluminum vehicles are currently restricted to the high end of the price range. "Based on our experience of effective system design for aluminum, we believe the cost delta with steel can be managed," he adds. "There is, and will continue to be, a learning curve effect for aluminum in automotive, but further work will ultimately close the gap."
Few people realize that aluminum was extremely scarce before the development of the electrolytic extraction process in 1886. In fact, it was considered a precious metal and in the Paris Exposition of 1855 was displayed alongside the crown jewels of France. Only the previous year, the Washington Monument was capped with a 100-ounce aluminum pyramid that now takes pride of place beside the Hope Diamond at the Smithsonian Institution's Rock Hall.
Perhaps, today, the metal is even more valuable, at least in terms of what can be achieved in safety, the saving fossil fuels and protecting the environment.

Further comments to this article have been disabled.
---
All Comments (6)
Showing 1 - 6 comments

Sean,
This information is sooooo dumb

Ryan,
How much does it cost for one of these cars compared to if it was steel?

Micheal Jordan,

Ed,
I agree that lighter is the way to go. Hybrids are nice, but if you simply lower the weight in some of today's vehicles you instantly will get better fuel economy. It would of course boost the efficiency of hybrids and all electric vehicles also.

I have an all electric car that I made this summer. http://www.ZeroGasoline.com

gary,
i think it is a good idea because it is more fuel efficient. now cars will get better gas mileage because they are lighter and you could put a 2 cylinder engine in a dodge ram instead of the 6.0 diesel, hemi, 4.7 liter or 3.7 liter

jim,
Recently bought a used all aluminum fuel efficient hybrid car. Now every other car, including the ones I own, strike me as fossil fuel gulping iron locomotives-dinosaurs. Why has it taken so long for this industry to get nowhere?
---