Ohio--The Rim of the World
Date: 2004-12-09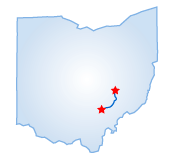 Locals call the first 20 miles of this drive "the rim of the world." The drive starts in Glouster, Ohio by taking Rte. 78 east. The drive is short but can take you several hours to complete. It may be one of the best up and down, left to right, rolling drives anywhere in the Midwest. You're in the high hill country of Ohio.
As you head east out of Glouster, the two-lane state highway twists and turns and features blind, roller coaster-like short juts that keep your speed below the limit and challenge your driving skills. The scenic views are spectacular as you drive through the edge of the Wayne National Forest toward the blue Muskingum River in Malta. Try to take enough time from your driving to also glimpse the scattered and tranquil farms throughout this hill section.
The river towns of both Malta and McConnelsville have fine examples of historic Ohio houses from the days when riverboat commerce was the way of life. The river towns are sprinkled with antique and local craft shops. In the fall, the foliage is spectacular along this route. If you continue east on Rte. 78 for another 20 miles, you will enter the largest coal strip-mining area in the country. This is where the Big Muskie once operated, which was one of the biggest draglines used in the coal industry.
At Bristol, head north on Rte. 284, which takes you to High Hill, one of the highest points in Ohio and close to The Wilds. The Wilds, which you can actually ride through, is a wild animal refuge in the middle of reclaimed strip mines.
Starting Point:
Glouster, OH

Distance of Drive:
42 Miles

Must Eat:
The Blue Bell Restaurant
2 West Main Street, McConnelsville, OH 43756
Phone:740-962-3939
Call ahead to confirm hours of operation.
Good Stop For: Great home style cooking

Best Time of Year for Drive:
Year round (the fall leaves are spectacular)

Points of Interest on Drive:
The Wilds' Wild animal refuge near High Hill, OH
Comments to this article have been disabled.
---
---