The Sink: The Last Days of Driving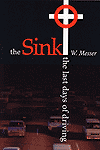 The Sink: The Last Days of Driving
A satire about the declining culture of the roadway.
Wendel Messer
221 pages
$10.95

---
---
You might call it "bad driving from outer space."
If Wendel Messer's zany, darkly satirical and often hilarious novel about bad driving in the year 2010 ever gets made into a movie it'll be just right for the "Movies from Space" channel, and a nice whimsical companion to John Wyndham's '60s sci-fi Day of the Triffids.
In The Sink: The last days of driving, Messer has fun with the constantly evolving culture of the roadway and the behavioral sink in which, he feels, today's drivers operate. Modern driving is a far cry from the world of rules and regulations taught to new drivers as they qualify for their license, and the gap between formal rules and the conduct and mores of everyday drivers is, by most accounts, widening. Anyone who wants to stick by the rules in today's traffic is likely to be in constant trouble.
Messer's main characters - a nutty professor, a driving instructor, and a former government driver examiner who thinks a galactic alien force has turned drivers into "Triffids" - aim to start a revolution of the roadway righteous against the reckless, the careless and the inept.
The brilliantly-written book makes a fascinating read for the traffic safety community. It is, after all, probably the first satire of its kind on the culture of the roadway, and Messer who holds a B.A. degree and a B. Ed degree, has a deep knowledge of driving. In addition to being a former English teacher, he worked as an instructor for several years with one of North America's top driving schools.
What makes the book especially interesting is its insights into typical driving mindsets, and the fact that it deals with an aspect of driving that is a massive problem - and challenge - for the traffic safety, traffic engineering and law enforcement communities.
This book is a must-read for anyone with a professional involvement in traffic and driving standards, and it's an excellent primer and talking-point for a debate that is currently emerging in the public consciousness – the decline in road culture.